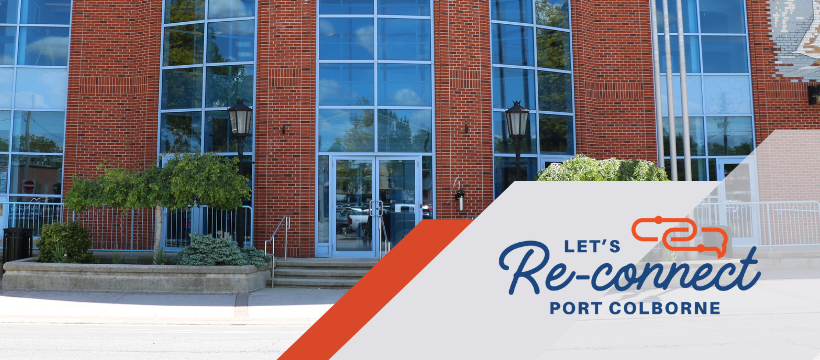 Effective today, Monday, Feb. 28, 2022, all city facilities will resume in-person services.
What does this mean?
City Hall, located at 66 Charlotte Street, will resume in-person services, Monday to Friday from 8:30 a.m. to 4:30 p.m., including bill payments and inquiries, purchasing passes for NRT OnDemand, recycling bin program, building permits, marriage, business, and lottery license applications, meetings with the mayor's office, and more. Appointments for some of these services can still be made and are encouraged to ensure staff availability.
Customer service representatives can also be reached by calling 905-835-2900, emailing customerservices@portcolborne.ca, or completing our online request form.
Virtual City Hall is also available for Port Colborne residents to manage property taxes, water, and wastewater bills online. For more information, including activating an account and 'how to' videos, visit our webpage.
The Port Colborne Public Library will resume in-person browsing and 60-minute computer appointments. During curbside operations the library has been under renovations and can't wait to show you their new look, but appreciate your patience as they work to complete the final touches.
Although the Port Colborne Historical & Marine Museum does not open for the season until May, there are still ways to stay connected and step back in time, including going for a walk through the heritage village. Now is also a great time to register for your free museum membership on their website, sponsored by Bell Marine.
The Vale Health & Wellness Centre, including the Port Colborne YMCA, has been open since January as a great place to walk or run on the Walking Track from 6:30 a.m. to 10 p.m., PORTicipate in one of the many drop-in arena programs, rent the ice, or join the YMCA.
Staff are optimistically planning for the return of several festivals and events, including the Top Hat Ceremony on Mar. 24 to celebrate the opening of the Welland Canal, and the city's signature event Canal Days from July 29 – Aug.1, 2022. Visit our website for updates.
Public works is continuing to provide essential services to residents from winter control operations, to water and wastewater, and infrastructure improvement projects, including the Erie Street watermain replacement. For after-hours public works emergencies, please call 905-835-2900 and press '9' for dispatch.
Our community safety and enforcement department, comprised of fire and by-law services, located at the Fire Hall, 3 Killaly Street West, are available Monday to Friday from 8:30 a.m. to 4:30 p.m. for the smoke alarm program, fire complaints, by-law complaints, insurance/fire reports, and more.
What can you expect arriving to a city facility?
Before entering a city facility, visitors are to complete a self-screening assessment posted on the doors and are asked to stay home if feeling unwell.
Face covering requirements remain in effect.
Until March 1, 2022, visitors 12 years and older to the Vale Health & Wellness Centre will be required to show proof of full vaccination status (two doses) through the enhanced COVID-19 vaccine certificate (QR code), either downloaded onto a smart phone or printed on a piece of paper. Enhanced vaccine certificates will be scanned through the Verify Ontario App, along with photo ID, to gain access to the facility.
What else does this mean?
As of March 1, 2022, all capacity limits and proof of vaccination requirements will be lifted by the province. For more information, visit www.ontario.ca.
Local businesses still need your support. For a complete list of Port Colborne businesses to support, visit our business directory.
So, let's re-connect, Port Colborne!
To learn more about how to re-connect with city facilities, visit our website.
To stay up-to-date on all city information, subscribe to our news channel.