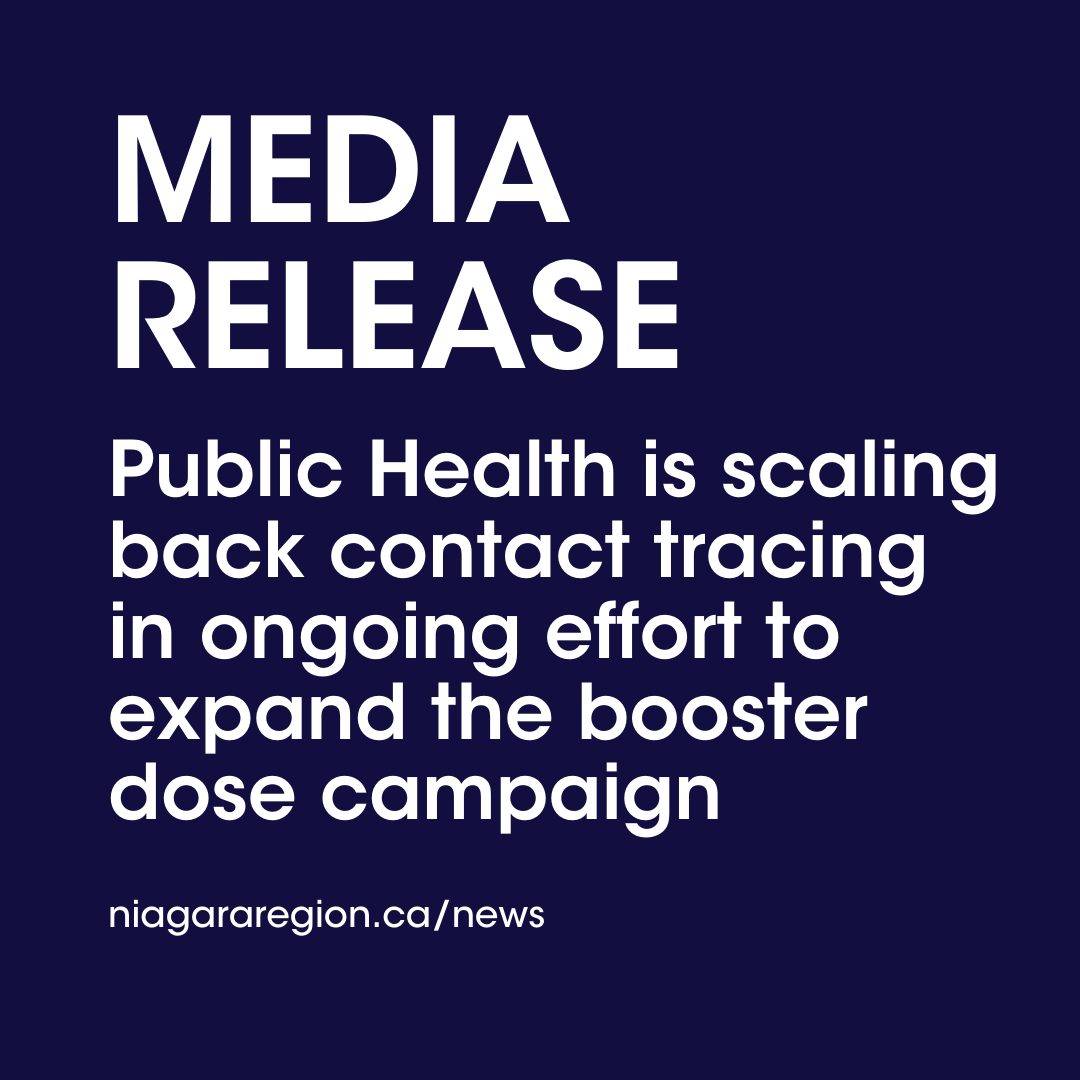 Niagara Region Public Health (NRPH) will be implementing changes to case and contact management in the coming days as Public Health continues to shift resources to expansive vaccination efforts.
Following-up with every COVID-19 case and their contacts to isolate them has been a cornerstone of controlling the pandemic for the past 21 months. By breaking chains of transmission, cases have been kept low, severe illness and death has been prevented, and society has been able to reopen for sustained periods after lockdowns.
The Omicron variant poses a new and very different threat. With growing case numbers, testing capacity is being stretched and people are now waiting longer to get tested, delaying the identification of cases for follow-up. Meanwhile, the time between exposure to an infected person and then becoming contagious has shortened greatly with the Omicron variant. The effect of delayed testing, a faster-moving virus, and more cases and contacts stretching capacity is that Public Health is much less likely to be able to intervene early enough to break chains of transmission. The utility of following up with cases and contacts has diminished, and will become increasingly less valuable as testing delays increase and case numbers overwhelm Public Health's capacity.
Public Health is beginning to shift resources instead to deliver booster doses which can better blunt the severity of the Omicron wave. Case management and contact tracing will increasingly be handed over to artificial intelligence tools and outsourced support.
NRPH will use a combination of communication methods, including provincial resources to notify individuals they have tested positive for COVID-19. This call may come from an unrecognized number or a text message; this text message will include a trusted and secure link. Anyone who has recently been tested is encouraged to answer all calls, respond to text messages concerning their diagnosis, and notify their close contacts.
If you test positive for COVID-19 by a PCR test or a rapid antigen test, follow these self-isolation guidelines:
​The individual testing positive will need to self-isolate for ten days from when they first developed symptoms of COVID-19. These persons testing positive should identify all individuals with whom they have had contact in the 48 hours before symptom onset.
Individuals testing positive who are NOT experiencing symptoms are to self-isolate for 10 days from their day of testing. These persons testing positive should identify all individuals with whom they were in contact in the 48 hours before testing.
As a person testing positive for COVID-19, one's household members are required to self-isolate for 10 days from their last exposure to the person testing positive, regardless of vaccination or previous infection.
Individuals who have had a close personal interaction with a positive case for 15 minutes or longer are typically high-risk contacts. This time can be cumulative across multiple encounters during their infectious period.
All high-risk contacts associated (work, live, attend or volunteer) with a high-risk setting must self-isolate regardless of vaccination status or previous infection.
High-risk settings include
​Hospital and health care settings (including complex continuing care facilities and acute care facilities)
Congregate living settings (long term care homes, retirement homes, group homes, shelters, hospices, post-secondary dormitories, temporary foreign worker setting, correctional institutions)
Elementary school, middle school, or secondary school
Child care centres, camps
For high- risk contacts in settings other than high-risk settings
Unvaccinated high-risk contacts are to self-isolate for 10 days from their last interaction with the infected individual
Fully vaccinated high-risk contacts who are members of the same household should self-isolate for 10 days from their last exposure to the infected household member, as described above.
Fully-vaccinated high-risk contacts from a different household do not need to self-isolate.
Regardless of vaccination status, or whether they work in a high-risk setting, NRPH recommends all high-risk contacts seek testing seven days after their last exposure, or sooner if they become symptomatic.
High-risk contacts can book an appointment for free testing at The Niagara Health System or the provincial website COVID-19 testing locations (ontario.ca). It is important to note that COVID-19 test sites are experiencing an unprecedented surge, so persons should book a test as soon as they can.
For more information on self-isolation guidelines visit niagararegion.ca/COVID19 or call the Call the COVID-19 Info-Line at 905-688-8248 or 1-888-505-6074 (press 7). The info-line is open Monday to Friday, 8:30 a.m. to 4:15 p.m.
A message from Niagara Public Health