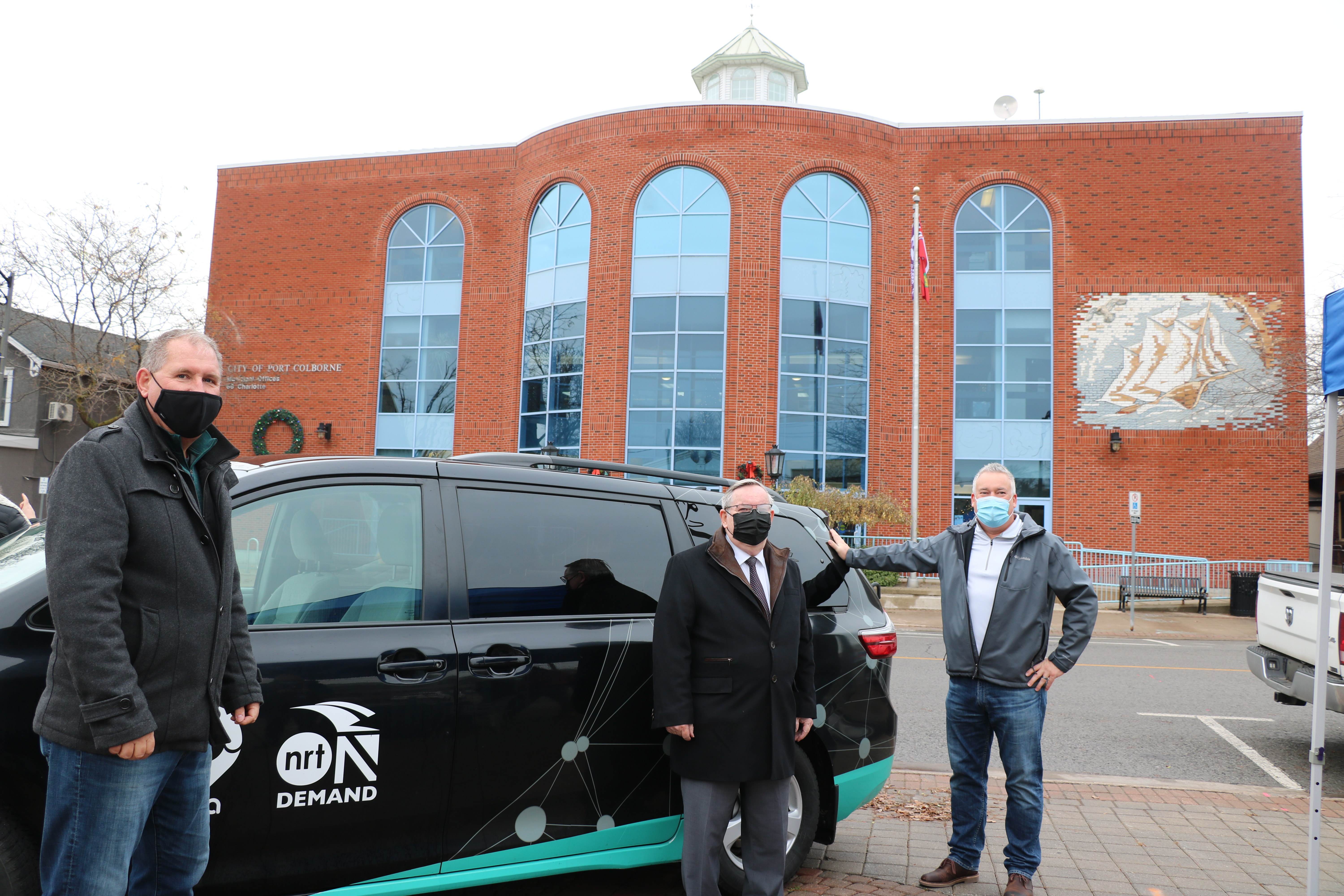 Now all residents in Port Colborne will have access to transit services no matter where they live, with NRT OnDemand covering the whole city. NRT OnDemand offers riders in smaller, rural communities more equitable access to transit than conventional, fixed route bus service can provide.
Riders are able to book trips in real time by using the NRT OnDemand mobile app, or by calling 289-302-2172, and selecting a pick-up and drop-off location within the service zone. Once the ride is booked, passengers are directed to a nearby stop location to await their ride. Individuals without access to a smartphone are able to purchase transit passes at Port Colborne City Hall and Vale Health and Wellness Centre.
NRT OnDemand will operate in Port Colborne Monday to Saturday between 7 a.m. and 10 p.m. beginning Jan. 3, 2022. Fares are $3 per local trip, and $6 for inter-municipal trips. The $4 fare remains in effect for riders that wish to connect to Niagara Region Transit's Route 25 (PC Link) at Port Colborne City Hall. Port Colborne will be the seventh community serviced by NRT OnDemand, joining Grimsby, Lincoln, Niagara-on-the-Lake, Pelham, Wainfleet and West Lincoln.
Niagara Region was one of the first communities in Canada to collaborate with Via, the global leader in TransitTech, for an on-demand transportation service. The fleet's vehicle are mini-vans, which offer comfortable seating for up to five passengers. All COVID-19 protocols are in place for the health and safety of passengers and operators.
Visit us online for more information about NRT OnDemand.
Quotes
"The expansion of on demand transit service to Port Colborne is just another example of how well a singular transit provider will be across the Region. The launch of this service takes place on the heels of Regional Council showing their overwhelming support for the creation of a transit commission, and I trust that Port Colborne's experience will be exceedingly positive as it has been in so many other communities. Providing flexible, convenient service to Port Colborne's residents that seamlessly connects into across Niagara will allow residents the opportunity to more fully experience their community, as well as access the entire region." ~ Regional Chair, Jim Bradley
"Our mission is to provide an exceptional small-town experience in a big way, and our decision to offer our residents an OnDemand transit system that will service 100 per cent of our city is an example of that. We're continuously looking at ways to keep our community connected, whether within our city limits or across Niagara, and this convenient and flexible transit service is another tool our residents can use to do that. Whether booking a ride to get to work, school, our Vale Health & Wellness Centre, go shopping, or visit family and friends, we hope that our residents take advantage of this service and the new opportunities it can provide them." ~ Mayor of Port Colborne, Bill Steele
"Via is excited to serve more riders in the Niagara Region as the NRT service expands to Port Colborne. The region has set a strong example for the ways that rural transportation can best serve the community, and we're proud that NRT OnDemand will continue expanding connections to essential and leisure destinations." ~ Chief Revenue Officer, Via, Dillon Twombly