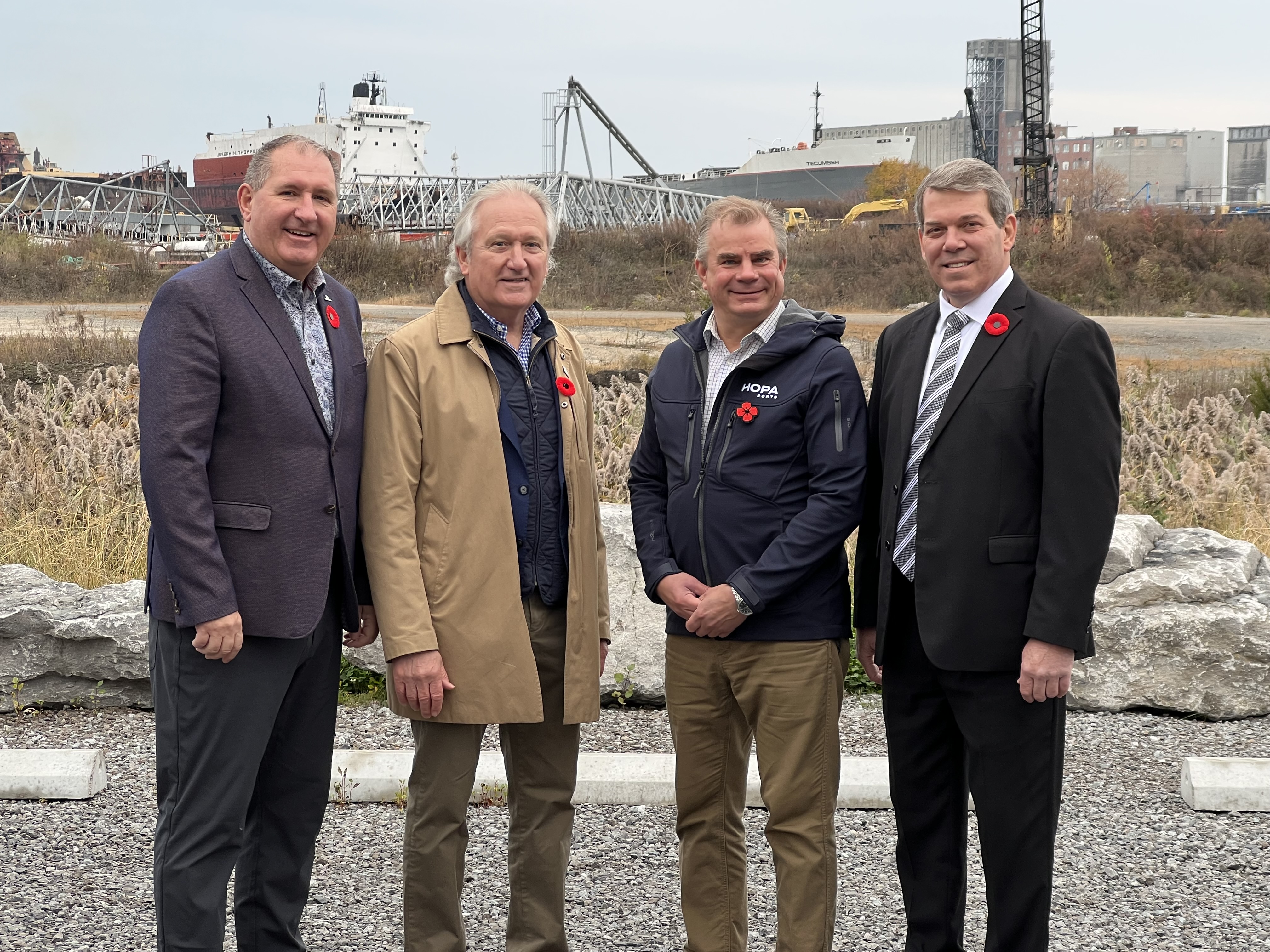 Hamilton-Oshawa Port Authority (HOPA Ports) is thrilled to announce the expansion of its Niagara lands portfolio with the addition of three new parcels, two in Thorold (12 and 16 acres) and one in Port Colborne (40 acres). These lands are owned by Transport Canada and were previously declared surplus to the operation of the Welland Canal. All three parcels are active or legacy industrial sites and are positioned for revitalization to modern industrial uses. These new lands will integrate new industrial capacity into HOPA's network of Great Lakes multimodal hubs.
"We are grateful to the Minister of Transport, Hon. Pablo Rodriguez, for this vote of confidence in HOPA's Niagara Ports strategy," said Ian Hamilton, President & CEO of HOPA Ports. "We are pleased to add these lands to HOPA's integrated port network, where they can begin working for our economy."
The expansion underpins HOPA's vision to revitalize underutilized marine lands, boost economic growth, create jobs, and facilitate trade in the Niagara region and throughout Ontario.
Thorold Hub Grows
This land transfer adds two new development parcels to the Thorold Multimodal Hub-North. The Thorold Multimodal Hub is a 500-plus-acre multimodal industrial complex in Niagara, adjacent to the Welland Canal, with marine, rail and highway access. HOPA and its partners, the BMI Group, have successfully revitalized legacy industrial facilities into a thriving space for modern businesses, with more than 25 companies now calling the Hub home. The Thorold Hub was recently shortlisted for a 2023 'Brownie' Brownfield Redevelopment Award. The two new parcels will be added to the northernmost area of the Hub, where users will have access to indoor and outdoor storage and handling of a range of commodities.
Port Colborne Lands for Industry, Training, Conservation and Learning
The transfer of the Port Colborne lands paves the way for a range of uses on the southeast side of the Welland Canal. Modern industrial uses will include cargo handling and storage, and improved multimodal service for shippers. Port Colborne's Lake Erie access makes it interesting for bulk, breakbulk and potentially even containerized cargo.
HOPA is also working with community partners on a concept for a Great Lakes-focused multi-use centre for a portion of the Port Colborne lands, building on Niagara's maritime heritage and the leadership of its education sector. Preliminary discussions have been held with organizations in the labour, education, watershed management, and non-governmental sectors including the Seafarers International Union, Niagara College, the Niagara Peninsula Conservation Authority and others about participating as tenants or users of the new Great Lakes centre.
HOPA Ports is dedicated to building multimodal industrial spaces that draw a diverse range of tenants, shippers and investors to maximize Ontario's industrial capacity. HOPA's job is to build resilient supply chains by optimizing the performance of southern Ontario's marine transportation system, alleviating road congestion and providing shippers with improved options.
The Niagara Ports expansion in Thorold and Port Colborne offers development-ready industrial land; along with marine, rail, and highway connections. As a network, it offers partners a wide range of options to meet development and transportation needs, while supporting the Region's vision of generating and attracting investment, creating stable jobs, and building a sustainable working waterfront.
"The expansion project aligns with HOPA's mission to lead an integrated port network on the Great Lakes," added HOPA's Ian Hamilton. "Our ports serve as critical trade gateways to Canada's largest and most dynamic economic region. By having more lands and multimodal services to support industry, we can help keep our economy thriving."
Vance Badawey, MP, Niagara Centre – Parliamentary Secretary to the Minister of Transport


We are incredibly excited to transfer the management of three parcels of land in Thorold and Port Colborne to HOPA. Under HOPA management, and as part of the Niagara Ports Trade Corridor inventory, we are confident these vacant lands will be utilized effectively to their full potential and provide substantial economic benefit to the region. This is long overdue! Due to this partnership between Transport Canada and HOPA, more jobs, services, and resources will flow into the Niagara region which will further fuel the growing economy and improve the quality of life for our residents."
Chris Bittle, MP, St. Catharines – Parliamentary Secretary to the Minister of Housing, Infrastructure & Communities


"This announcement confirms our government's commitment to strengthen Canada's supply chains and work with important partners in the marine shipping industry, like the Hamilton-Oshawa Port Authority. The transfer of these lands to HOPA is a great opportunity for further economic development and employment opportunities in Niagara."
Jim Bradley, Chair – Niagara Region


"I want to congratulate HOPA Ports on today's announcement of the expansion of its operations in Niagara. The redevelopment of these underutilized marine lands in Thorold and Port Colborne will help Niagara further build upon its competitive advantage as true multi-modal transportation hub which connects southern Ontario manufacturers to international and global markets."
Bill Steele, Mayor of Port Colborne


"I'm thrilled to see this parcel of land enter into a fresh chapter, and especially one with such a bright promise of innovation and education in our community. The new Great Lakes Centre will build on the rich marine heritage of Port Colborne and the Welland Canal, and offer economic uplift, job creation and opportunities for education and environmental champions to prosper."
Terry Ugulini, Mayor of Thorold


"The expansion of the Thorold Multimodal Hub by HOPA is a testament to the importance of multimodal transportation modes. The inclusion of these lands will provide new development and business attraction opportunities that leverage marine, rail, and road infrastructure. This will create new investment and job opportunities that will be critical to the continued growth and economic prosperity across the Niagara Region."
About Hamilton-Oshawa Port Authority

As an integrated port network, the Hamilton Oshawa Port Authority (HOPA) offers port and marine assets in Hamilton, Oshawa and Niagara. An efficient, multimodal network on the Great Lakes, it supports Ontario industries and facilitates trade. By investing in high-quality infrastructure and prioritizing sustainability, HOPA helps build prosperous working waterfronts in Ontario communities. Overseeing more than 1,400 acres and more than 150 tenant companies, 40,000 Ontario jobs are connected to the cargo that passes through HOPA's integrated ports.