Algoport Skate & BMX Park is located in Lock 8 Lakeview Park, overlooking the Welland Canal and one of the world's longest locks. Located at Killaly Street West, Mellanby Avenue and the Welland Canal, between the two jack-knife bridges.
Algoport Skate & BMX Park is a "one of a kind" marine themed Skate & BMX park. The park was designed by a subcommittee of the Mayor's Youth Advisory Council (MYAC), known as the Sk8 Park Group and Jim Barnum of Spectrum Skatepark Creations, along with Landinc Architects. The designed followed along Port Colborne's marine heritage and replicates a laker passing under a bridge and portrays a compass to navigate youth.
The name "Algoport" is recognition of sponsorship from Algoma Central Corporation. In September 2009, the original Algoport ship broke in half and sank in heavy seas while under tow in the South China Sea south of Japan, in 5,000 meters of water.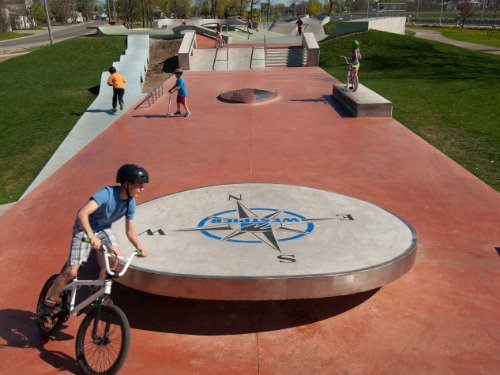 Skate & BMX park features
The park features areas for beginner, intermediate and experienced enthusiasts including:
670 sqm of flat concrete pavement
430 sqm of ramped concrete pavement
88 m of round stainless steel coping
75 m of square or flush stainless steel coping
16 metres (4 lengths) of grind-able rail and 132 m of railings
33 sqm spectator zone
Central fun box with a curved cut-away
4 ledges
A pole jamb
7 riser stair set
Cantilevered ramp
Roll-in
"Lifeboat" jump
"Compass"
Lily pad
Concave gap
Mogul
2 rollers
High drop-in ramp
3.3 m high over-vertical quarter pipe ramp
2 textured "gang plank" entry paths
Rules & Regulations
Cameras are in place and presently recording 24 hours a day, 7 days a week!
This park is open during daylight hours only
Use of the Skate & BMX Park at your own risk. This facility is not supervised.
Wear proper safety clothing: It is recommended that riders wear helmets and full pads
No outside obstacles or props allowed. No motorized equipment or bikes are permitted.
Ride within your limits and abilities. You are responsible for your safety and the safety of others.
No graffiti, tagging or placements of stickers or promotional material
No alcohol, tobacco, cannabis products, glass containers or illegal substances allowed
No BULLYING – "0" Tolerance for any act of bullying or harassment
Children under 12 years of age should be accompanied by an adult or legal guardian
For your safety it is suggested you never skate/ride alone
This facility is under video surveillance
For medical emergencies, call 911
133 Mellanby Avenue, Lock 8 Lakeview Park
Special thank you to the City of Port Colborne Council, staff and community partners for all their efforts in making this dream a reality!
Thank you to our sponsors DSW Welding, Glenmount Memorials, Landinc, Patterned Concrete Niagara, and Spectrum Skateparks.