Find a new read with one of these patrons reviews or recommendations. View our newsletter for more programs and details. Interested in participating? Contact us to get started today.
Looking for older reviews or more recommendations? We archive this page once a year.
The views, thoughts, and opinions expressed in the book reviews or recommendations are those of the authors and do not necessarily reflect the official policy or position of the Port Colborne Public Library.
Recommended summer reads
Have you read any good books lately? Submit a review of a book you'd like to share with others for a chance to win a prize this summer! Reviews may be published here and on social media accounts.
Teen book reviews
We are looking for teen guest reviewers to read and write book reviews. Each approved book review will earn you five hours of community service! Or, participate in our teen BINGO this summer for a chance at a prize! Reviews will be published here and on social media accounts. Contact us for more information if you want to participate.
Allies by Alan Gratz (Review by MT)
Dee Carpenter, a former German, has one chance to shine and everything to lose.
After moving to America at the age of five years old, Dee Carpenter at the age of sixteen decides to enlist in the army to fight the Germans and stop the madness Adolf Hitler had caused. After getting dumped on Omaha beach in the line of German fire Dee fights his way up to the hills of Normandy.
While Dee Carpenter is attacking the front with his comrades, Canadian James McKay and the other paratroopers are parachuting in to attack the Germans from behind. But after a catastrophe while in the air, James McKay and his best friend Samuel Tremblay end up isolated from the group and about eleven kilometers off course trying to attack the Germans before it is too late. Success could give them the upper hand in the war but failure could lose them the offensive movement.
Desperate after seeing friends and family taken away from them, Samira Zidane and her mother, with the help of other French freedom fighters, are working to sabotage the German forces and turn the tide of the war. When her mother gets taken to a Nazi Death camp all hell breaks loose.
I enjoyed this book because of the everlasting action and intense fights between the Germans and Americans. Also I enjoyed how detailed the characters' backstories are which put extra depth into the story. Finally I loved the ending and found it very interesting and satisfying.
---
Find "Allies" today in our catalogue.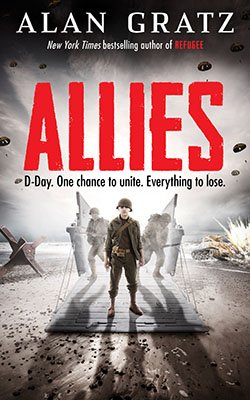 The Devil Makes Three by Tori Bovalino (Review by MG)
Tess didn't fit in at Falk University. She never has and she probably never will. Her family is falling apart because of her fathers failed business, which landed her at this school. Where everyone whose parents had money ended up, except hers. The only reason she took her aunt's offer to join the school was because she knew her parents were not able to afford her or her little sister Nat anymore. Although she didn't have to, Tess moved her and her sister to Falk and took on the heavy role of a parent in order for Nat to succeed.
Eliot, on the other hand, did fit in at Falk. Perfect family, straight A student, whose parents had money, and lots of it. That's all everyone knew about him at least. But behind doors, Elliot had a lot more to him than anyone knew. His parents were actually divorced, his mom was dying all the way in another country, He actually hated his dad, he was only at Falk as a punishment, and he was a witch. He had magic. Magic that gave him the ability to do a lot of things except cure his mother, which was the only thing he wanted to do. Is his magic strong enough to cure someone or even bring someone back to life? Maybe, but he didn't have the spells for such a thing. Tess did though.
Tess worked in the library and had access to places that held grimoires. Grimoires he would only dream of reading and maybe some containing spells that could help him cure his mother. Clueless Tess agreed to help him, but she had no idea what they were about to stumble upon or what they would become…
This book is very well-written and I found myself excited to keep reading. I thought the characters were super relatable and realistic. I would definitely recommend this book to anyone who is interested in mysteries and the paranormal/ unexplained. Even though these things are hard to picture or explain sometimes, the author did a great job at describing everything in detail which made me (the reader) able to picture everything perfectly and almost made me feel like I was a part of it.
---
Find "The Devil Makes Three" today in our catalogue.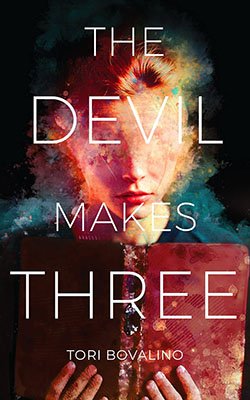 Good Girl, Bad Blood by Holly Jackson (Review by MS)
Have you ever wanted to solve a mystery? If the answer is yes, then pick up Holly Jackson's Good Girl, Bad Blood, the second book in the Good Girls Guide to Murder series. The book begins a few months after the events of the previous book, with Pippa creating a true-crime podcast to document the events. Pippa swears that she will never go back to being an obsessive teenage detective but later, a new mystery is introduced that she cannot turn down. One of Pippa's best friend's brother, named Jamie, is missing. The police do not care, so Pippa revives her podcast with the help of her friends and takes on the responsibility to find Jamie.
I would give the book 4.5/5 stars. The structure and storytelling of the book felt very authentic and made me feel like I was listening to a true-crime podcast and actually involved in solving the mystery. The book was very organized and good at world building as it included many visual aids such as maps and pictures of evidence that I thought were helpful and a unique touch. I thought the clues and evidence found during the mystery were unlike any other mystery plots I have seen. The protagonist, Pippa, was a wise character. I was able to appreciate and root for her during the entire book, even though she was flawed. My only negative comment would be that the last few pages when the mystery unraveled felt rushed compared to how good the rest of the book was.
Overall, I would recommend this book and series to anyone interested in young adult books or mysteries.
---
Find "Good Girl, Bad Blood" today in our catalogue.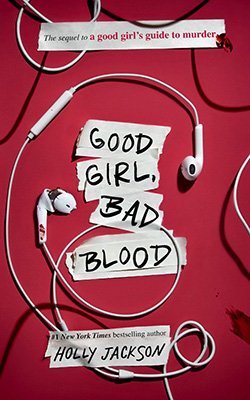 How to Draw Magical, Monstrous and Mythological Creatures by Bob Berry (Review by CM)
When I first saw this book titled How to Draw Magical, Monstrous and Mythological Creatures written and illustrated by Bob Berry, I was ecstatic because I thought it would help me with designing characters. I have a great interest in mythology and especially the creatures that come from it. I like to make simple characters and was hoping this would help me make my characters look more unique.
How to Draw Magical, Monstrous and Mythological Creatures covers a variety of drawing techniques. The opening sections discusses drawing tools and materials as well as basic pencil techniques, color basics, and color media. It also shows examples of numerous creatures, such as: Dragons, Pegasi, Nessie, and Elves. I found the illustrations really cool looking, except I didn't like how the wings looked on many creatures. The author discusses various effects and styles with step-by-step instructions. He does give some background to each creature. Mr. Berry in his 128-page book has numerous examples and pictures that touch on almost every aspect of the topic.
After reading this book, I found it lacking in direction and instruction with very little specifics on how to draw magical monsters and mythological creatures, which was very disappointing as it did not meet my expectations. I found that the 'variety' of creatures was very lacking as most of them were very humanoid, I expected a Quetzalcoatl or snake creature and clearer directions on drawing. As I stated in my introduction, I was looking for something to help me enhance my character, this book did not assist me. I was hoping to provide a drawing after reading this book but was not inspired to do so.
Unfortunately, I cannot recommend this book as it does not meet my needs.
---
Find "How to Draw Magical, Monstrous and Mythological Creatures" today in our catalogue.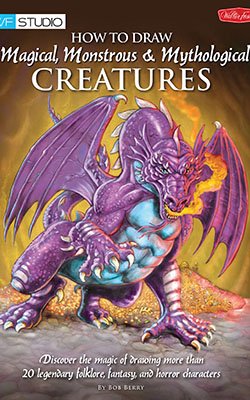 The Lovely Bones by Alice Sebold (Review by AS)
The Lovely Bones is a psychological fiction novel. The point-of-view of the novel is unique, as it is told from the perspective of Susie Salmon, a girl who had her life taken from her when she was only 14 years old. She was brutally raped and murdered by a man living only two houses down. Susie was a part of a small community who throughout the novel Susie sees cope with her loss in different ways. She begins to understand how loss is different for everyone and how her murder changed the course of people lives indefinitely.
Susie Salmon works from heaven to help her family find her killer while also accepting the fact that she will never be with them again. Throughout the novel she watches her little brother and sister grow up without her along with her friends. She stays in her 14-year-old body while she watches her siblings experience life. She learns to understand people far more deeply than before her untimely death.
This novel is heartbreaking, thrilling, and exciting all at once. It will have you on the edge of your seat asking questions you never had before. I would suggest that those who are opposed to violence refrain from reading this novel. There are many unpleasant and heavily weighted topics discussed that may upset others.
Overall, I would rate this novel a 9/10 due to the amazing writing and plot that had me hooked from the beginning
---
Find "The Lovely Bones" today in our catalogue.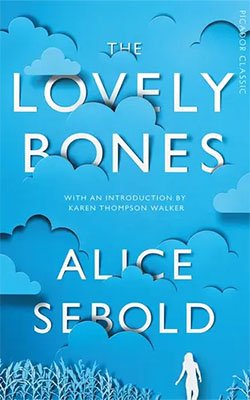 Ready Player One is a book where humans spend most of their time in a video game. The world has been destroyed by climate change and is going through an energy crisis. When a famous billionaire dies it's revealed that he has made a contest in the video game for all his possessions and wealth. That's when the world starts the hunt for the egg, and we get taken into the life of the main character Wade. It's about his path to try to find the egg and win the contest while battling the oppressive corporation that tries to take over the game and ruin what good is left in people's lives.
One of the best things about this book is its detail. For example, when walking into a bar or someplace new, the author really describes the place super well and you can really get a good idea of what the place looks like. Another thing I really liked about Ready Player One was the technology that was shown in it and how he addressed what could be reality in the future of our lives. One of the things I disliked about the book were the slow parts of it. Sometimes there would be a couple pages where it was just building up the story for future plot points and I felt that it was kind of slow. Something cool also is the 80s games and movies referenced through this entire book, it made me want to explore the 80s films and play the 80s video games that were in the book.
I understand that some people will see this book and learn that it's about video games and think it's geeky but I seriously think that if you read it you would enjoy it.
---
Find "Ready Player One" today in our catalogue.
The Rules by Nancy Holder and Debbie Viguié (Reviewed by AJ)
The Rules is a dark thriller by Nancy Holder and Debbie Viguié, published in 2015. The book has a wide variety of interesting and fun to read characters. The story focuses on the rules created by the characters. These rules vary from person to person.
August DeYoung, a student attending Callabrese High, invited everyone to his final scavenger hunt party before graduation. However, August has an ulterior motive, and has bigger plans for the last scavenger hunt. He planned to have everyone think back on how they treated his sister, Alexa DeYoung, before her death. However, another student, Robin, joins the party thinking she was invited. Instead, she was only invited by her friend Beth. Not counting Robin in the hunt, August must tweak his plans a small bit to include her.
Once everyone starts the scavenger hunt and is gone looking for their items, people start to find things that they believe August had laid out. But once these found decorations find their way back to August, he reveals that he doesn't know about them either. As it turns out, August wasn't the only one who had ulterior motives for the last scavenger hunt party.
The Rules is a great book, and I would recommend it to everyone. Every chapter has a new twist that made the book impossible to put down. The story is so well written, and it was very fun to try and figure out what was going on with all the characters. As you continue to discover the character's past, the more interesting the story becomes.
---
Find "The Rules" today in our catalogue.
Stamped from the Beginning: The Definitive History of Racist Ideas in America by Ibram X. Kendi (Review by MG)
No matter what our opinions are on it, as humans we all know that racism is very much a real thing and these past few years the world has gotten some big wake up calls surrounding it. Whether we pay attention to it or not we still live in a world where racism is real and happening everyday. But how educated are we on this very important issue? Some may know a lot about it, and some of us may not, but still support the fact that racism as a whole is wrong. Then of course there's the racists themselves. No matter what category you fall into this is a great book to read to learn about the history of racism not only in America but in the world.
This book starts off explaining how racist ideas originated dating back to the year 1635 all the way to more recent years and events in 2005. Also talking about figures like Cotton Mathers, Benjamin Franklin, Malachy Postlethwayt as well as more recent figures like Henry Villard, Carlton S. Coon, George Wallace, and of course the most recent and well-known Barack Obama. To say that this all started a long time ago would be an understatement, but we are still living in a world where racism is very much a real thing and as sad as it is, it's seen all around the globe.
Read, educate yourself and do your part so one day we won't have to see it at all.
---
Find "Stamped from the Beginning" today in our catalogue.
Recommendations for kids by kids
Read any good books lately? We are looking for book recommendations written for kids by kids! Participating is easy:
1. Write down your name, age, the title of the book, the reason why you liked it, and how many stars you would give this book out of five. You can include a drawing or photograph!
2. Then email or submit your book recommendations to us.
Recommendations will be published here and on our social media accounts.