Find our featured programs here. Reviews, crafts, activities and more. View our newsletter for more programs and details.
March Break activities
March 13 to 18, 2023
See our March Break flyer and find out what is happening at your library. This year, we will have: a Community Art Mosaic Project, a bilingual StoryWalk®, daily Take & Make Craft Kits, Green Screen Photography, Tween BINGO, Design a Button, Dungeons and Dragons, Music Makerspace, Red Cross Babysitting, and more!
Reviews and recommendations
Find new reads through our adult book clubs, teen reviews, and recommendations by kids for kids! Interested in participating? See the featured review page for details or contact us. Teens are awarded 5 community service hours for each approved review. Reviews and recommendations are published here and on social media accounts.
See reviews and recommendations
Spectacular spring book sale
Saturday, March 4, 2023. 9 a.m. to 5 p.m.
All individual items priced $0.25 or 5 for $1.00! You won't want to miss this book sale. Find a treasure and support your local library.
Documentary films
Monday, March 27, 2023. 1:30 to 3:30 p.m.
Join us for a screening and discussion of two documentary films:
Walt Disney World (2007, 56 min.)
A Park for All Seasons: Sleeping Giant Provincial Park (2010, 25 min.)
Pre-registration is required. Contact the library for more information: 905-834-6512. Free.
Income tax clinic
Registration opens Monday February 13, 2023, 10:00 a.m.
Income Tax Clinic dates:
Saturday, March 11, 9:00 a.m. to 4:00 p.m. (Full)
Monday, March 20, 5:00 p.m. to 7:30 p.m. (Full)
Saturday, April 1, 9:00 a.m. to 4:00 p.m. (Full)
Please contact the library to register at 905-834-6512. Limited spaces available.
March painting class: lavender sky
Thursday, March 23, 2023, 1 to 2:30 p.m. & 5:30 to 7:00 p.m.
Learn how to paint a stunning Spring landscape in this acrylic painting workshop! On a 12 x 12 " canvas, explore blending, shading, and brushwork techniques to create rolling hills, fields of flowers and a colourful sunlit sky.
Pre-registration is required. Contact the library for more information: 905-834-6512. Cost: $15 per person.
Activities for children
Join us for various activities. Check back to see what's new this month.
Tot time
Thursday, March 2, 23 & 30, 2023.
10:15 to 11:00 a.m.
Enjoy stories, crafts, and a circle-time. For ages 2 to 5 accompanied by a parent/caregiver.
Cost: $1.00. Pre-registration required.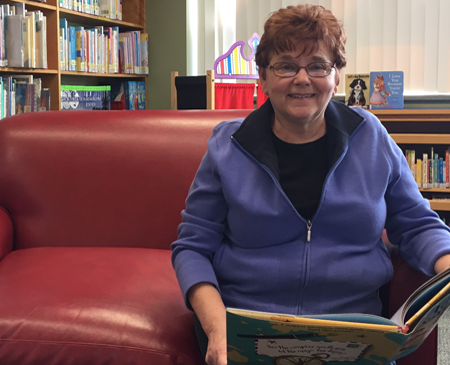 Story time with Shelly
Saturday, March 4, 18, & 25, 2023.
10:30 to 11:30 a.m.
Meet us in the Children's Room for a fun, free family time.
All ages. Free. No registration required.
Top Hat Ceremony
Save the date: March 22, 2023
Every March, when the canal reopens after the winter shutdown, the captain of the first downbound ship is presented with a ceremonial top hat, modelled after an iconic top hat from the Port Colborne Historical and Marine Museum. This type of top hat was worn by ship captains a century ago when the canal was in its early days. Meet us at the event where we will be popping up with commemorative buttons.
For more information about the 2023 Top Hat Ceremony, please visit the City of Port Colborne website.
Book club sets

Have you ever wanted to start your own book club? Now there are more ways than ever to borrow a set of book club books. All free with your Port Colborne Public Library card.
Port Colborne Public Library book club sets
We are happy to offer the following sets:
LiNC book club sets
Did you know that you can order over 250 different sets of book club books through LiNC using your Port Colborne Public Library card? From mystery to biography, from the classics to the latest bestsellers, there is a book for every kind of club. Some restrictions may apply.
To see what's available, please visit our online catalogue. You can also search "Book Club Set" as a title search. Need more information? Call us at 905-834-6512, we are happy to help you get started!
Employment opportunities and job training with PC Works
Tuesday, March 7, 14, 21, & 28, 2023. 10 a.m. to 12 p.m.
Learn more about computers, academic upgrading, employment opportunities and job training within the Niagara Region, Talk to a team member from PC Works who will be available at the library on Tuesday mornings, 10 a.m. to noon. They will be available to answer any questions and offer guidance to help get you moving towards your desired path!
All services provided by PC Works are free.
Speak with a Niagara Region Public Health Nurse
Friday, March 3, 17, & 31, 2023. 1:00 to 2:00 p.m.
Starting this October, a Niagara Region Public Health Nurse from the Family Health division will be on-site on Wednesday mornings to answer questions you might have about different topics such as your pregnancy, adjusting to parenthood, your well being as a parent, parenting tips, your child's growth and development, and more! They can also link you to services and programs available in the Niagara Region.
No registration required. Free.
Online programs
Did you know we have a
YouTube channel
? You can watch follow-along craft tutorials, activities and story times. Some videos are only available for a limited time, so check back for any updates. We also promote author talks, presentations, and other online programs of interest.