Planning your visit? see below 2023 media release regarding Nickel Beach
Port Colborne prepares for summer fun at Nickel Beach media release - March 1, 2023
Revamped in 1967 by the former Township of Humberstone's Centennial Project, Centennial Park is a 46-acre park overlooking Centennial – Cedar Bay Beach on Lake Erie. Located on Vimy Road at the southern end of Cedar Bay Road, off Highway 3, this beach features:
Two (2) outdoor picnic pavilions. Reservations are available.
Washrooms
Tennis courts
Volleyball courts including beach volleyball
Horseshoe rings and
A sandy beach.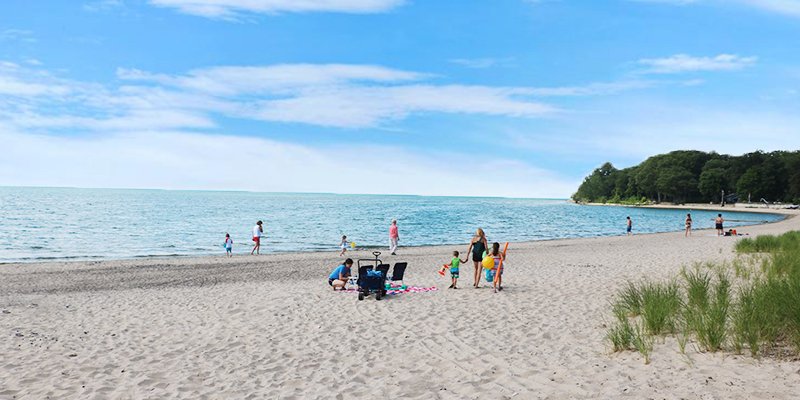 Daily Parking Lot Pass
(Non-Port Colborne residents) per carload:
Monday to Thursday
$20 plus HST
Friday, Saturday, Sunday & Holidays
2023 Seasonal Hours of Operation
Centennial - Cedar Bay Beach opens May 20, 2023!
Monday to Sunday, including Statutory Holidays: 8 a.m. to 9 p.m.
What you can bring to the beach
Personal hand sanitizer
Sunscreen
Towels
Water toys
A cooler with water, snacks, and non-alcoholic drinks
Umbrellas for shade
Personal BBQs (propane or charcoal)

We ask that you dispose of any waste accumulated during your beach visit in the receptacles provided.
What to leave at home
Cigarettes, cannabis, and vaping devices. All beaches in Niagara are smoke and vape free.
Drugs
Alcohol
Pets, including dogs and horses (with the exception of registered service animals)
Motorized watercraft
Any type of tent/shade structure's that are enclosed, or that exceed a 10x10 footprint
Is Lake Erie safe for swimming?
During the summer months, beaches along Lake Erie are safe to swim in. If the water is unsafe to swim in, Niagara Region Public Health signs will be posted at the entrance of the beach.

Beaches are unsafe for swimming when the water contains levels of bacteria that may increase a bather's risk of developing a variety of irritations and infections. The most common are minor skin, eye, ear, nose and throat infections and occasional stomach disorders. Other situations which may cause the status of the beach to change include floating debris, oil, scum, excessive weed growth, bad odors and general turbidity.

Niagara Region Public Health will post the status of local beaches every Friday during the summer.

To obtain information on the status of beaches in the Niagara region, call 1-888-505-6074 ext. 7789.

Check the latest beach status!
Frequently Asked Questions
Q. Who can access Centennial-Cedar Bay Beach?
Anyone can visit Centennial-Cedar Bay Beach
There will only be a limited 25 parking spots daily reserved for non- Port Colborne residents who are accessing the beachfront.
Anyone accessing Centennial–Cedar Bay Park to use the recreation amenities will have free access if parking on a short-term basis.
Individuals who are renting nearby cottages, who are not Niagara residents, will also be able to access the beach by means of walk-on access.
Q. What if I rent a cottage near Centennial-Cedar Bay Beach, can I still access the beach?
Yes. Anyone who is renting a cottage nearby can access Centennial-Cedar Bay Beach for free by walking onto the beach. Anyone renting a cottage nearby that wishes to park a vehicle in the designated parking lot will be subject to the applicable parking fees. If renters are not from the Niagara Region, a valid rental agreement will allow parking at the Niagara Resident rate.
Q. When does the 2023 beach season open?
The 2023 beach season will begin Victoria Day long weekend in May and stay open until Labour Day weekend
Q. When does Centennial-Cedar Bay Beach open and close during the summer?
Centennial-Cedar Bay Beach will be open daily from 8 a.m. to 9 p.m.
Q. Is there beachfront parking at Centennial-Cedar Bay Beach?
No, there is no beachfront parking at Centennial-Cedar Bay Beach. Parking is available across the street with approximately 50 spaces.
Q. Does it cost money to access Centennial-Cedar Bay Beach?
Parking and access to the park and beach is free for Port Colborne residents with their beach pass

A maximum of 25 spots will be reserved for non-Port Colborne residents with the following fees to park: $20 plus HST per carload Monday to Thursday, $30 plus HST per carload on Friday, Saturday, Sunday and Statutory holidays.
Q. Will washroom facilities be available?
Yes, washroom facilities will continue to be made available at both beaches.