Nickel Beach is the perfect beach for windsurfing, swimming and sunbathing.
Located on Lake Erie at the southern end of Welland Street at Lake Street, this beach offers white sandy beaches, great trails to explore and public amenities including shady picnic areas, restroom facilities and volleyball courts. Come out and enjoy some fun in the sun at Nickel Beach!
Nickel Beach is one of the few remaining beaches that offers beachgoers the rare and one-of-a-kind option to park their vehicles directly on the beachfront for the duration of their stay.
Planning your visit? see below options for Beachfront Parking at Nickel Beach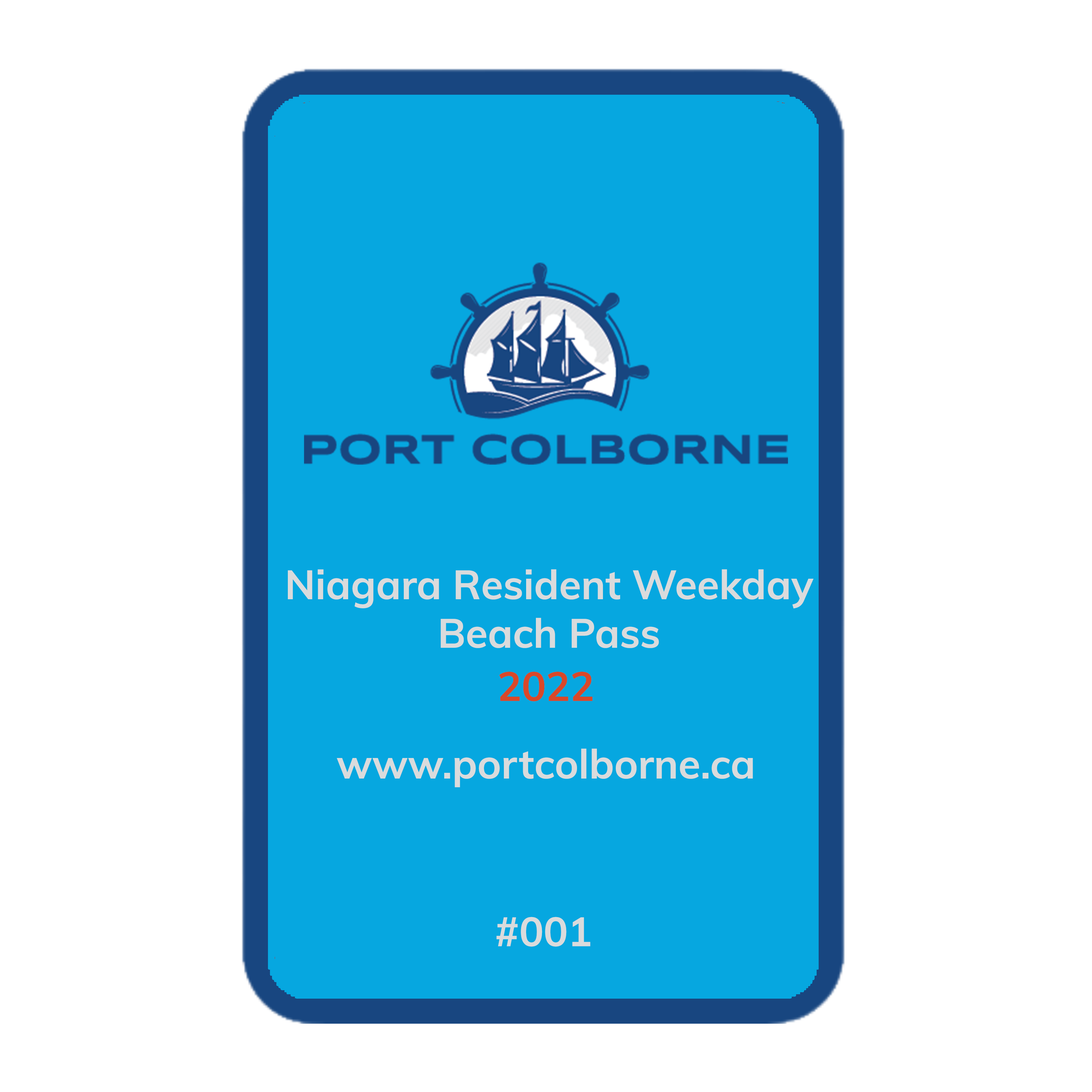 Niagara Resident Weekday Season Pass
(Seasonal - Niagara Residents Only): $100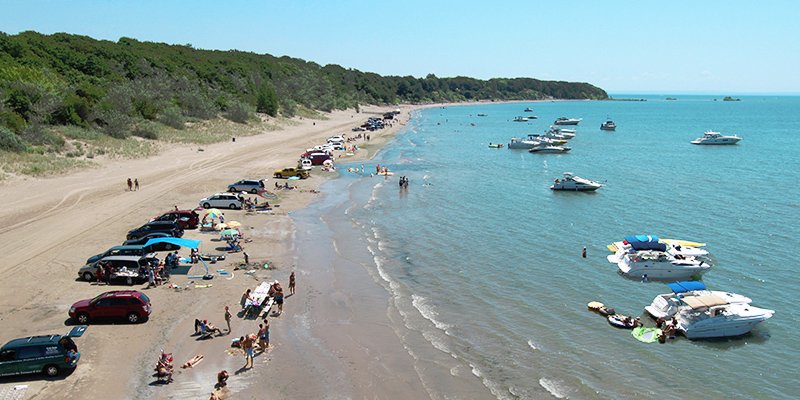 Beachfront Parking Day Passes
(Non- Port Colborne residents):
Monday to Friday

Niagara Residents $20
Non-Residents $50

Weekends & Holidays

Niagara Residents $25
Non-Residents $55
Non-Beachfront Parking
All non-beachfront parking options and walk-on access for non-Port Colborne residents are prohibited at Nickel Beach
2022 Seasonal Hours of Operation (Beachfront Parking Access)
Victoria Day weekend to Labour Day
Monday - Sunday (including holidays) 9 a.m. to 8 p.m.
No beach/park access, including walk-on access, from 8 p.m. to 5 a.m. daily during operational season
Note - Beach may open on weekends from Labour Day into October annually, please monitor online ticketing system for availability.
Labour Day to Victoria Day weekend
Walk-on access is open to the public Monday - Sunday at all hours
SplashTown Niagara Inflatable Waterpark
Note: The SplashTown Niagara inflatable waterpark at Nickel Beach operates independently of the City of Port Colborne. SplashTown Niagara is opening Saturday, June 18, 2022.
Nickel Beach Code of Conduct
Please respect our facilities; help us maintain a clean, safe, secure, and positive atmosphere for all by following the code of conduct and respecting other patrons and staff.
The City of Port Colborne has a ZERO TOLERANCE FOR VIOLENCE OR HARASSMENT
Show respect to other patrons, and staff - treat everyone with courtesy and consideration
Bullying, or causing a disturbance, in any form, is not acceptable and will not be tolerated
Respect the property - horseplay, damage or vandalism of any kind is prohibited
Be fully responsible for your actions and understand that irresponsible behaviour may result in disciplinary action
Please report any inappropriate behaviour to City staff, security, or the Niagara Regional Police
Any violation is considered a breach of this Code of Conduct.
Individual(s) that breach the Code of Conduct will be subject to immediate expulsion from the facility at which the beach occurs, with the potential for further suspension from Nickel Beach and surrounding campus.
Rules & Regulations
Refusal of Entry & Ejection
The City of Port Colborne reserves the right to refuse entry or eject any patron (resident or non-resident) that are found:
Upselling, transferring or selling daily beachfront parking passes or residential PORTicipate passes
Falsifying information in order to manipulate fees for access
Setting up external speaker systems and/or playing music at excessive and disruptive levels
Providing shuttle services into the beach for anyone who is not from a registered day pass carload that has been checked in
Engaging in disruptive or abusive behavior towards staff, security, or any other member of the public which contravenes the Nickel Beach Code of Conduct
Driving dangerously
In possession of prohibited items
Engaging in any activity that may be found harmful to the natural environment
Lighting fires
Launching motorized watercraft from the beachfront
Camping on the beachfront
Accessible Parking
There is no designated accessible parking lot area; however, staff will provide space to those who require accessible parking within the front entrance gates. Note: Accessible parking passes do not grant access for beachfront parking without charge.
Waste Management
Beachgoers are reminded to be respectful of their environment. Please use the waste receptacles provided for acceptable items only. All leftover charcoal or propane tanks are the responsibility of the user to dispose of. Anyone found littering or leaving prohibited barbecue waste are subject to fines.
Daily Beach Capacity
There will be a daily limit to beachfront parking in order to ensure the safety, and accessibility for all beachgoers. Maximum beachfront parking spots will be limited to 200 vehicles daily for non- Port Colborne residents. Daily passes for the 2022 beach season will go on sale April 14, 2022.

Washroom Facilities
There is currently access to portable washroom units at Nickel Beach. New modern, mobile washroom facilities are under construction, and set for completion and install later this season. Please stay tuned for updates!
What you can bring to the beach
Personal hand sanitizer
Sunscreen
Towels
Water toys
A cooler with water, snacks, and non-alcoholic drinks
Umbrellas for shade
Personal BBQs (propane or charcoal)

We ask that you dispose of any waste accumulated during your beach visit in the receptacles provided.
What not to bring to the beach
Alcohol
Drugs
Cigarettes and vaping devices. All beaches in Niagara are smoke and vape free.
Pets (with the exception of registered service animals)
Motorized watercraft,
Any type of tent/shade structure's that are enclosed, or that exceed a 10x10 footprint.
Large external speaker systems
Terms & Conditions
Inclement Weather & Beach Closures
Beaches remain open during the majority of weather events through the season. Unless beaches have been closed by the City of Port Colborne for an entire operational day, it is the responsibility of a day pass holder to request a refund/date move no less than 48hrs of the event date if weather is a concern. The City of Port Colborne will not process refunds or date moves for daily passes if requests do not meet the terms outlined in the cancellation policy below.
Daily operations at Nickel Beach are not affected by the daily water quality status through the season. Day pass refund/date move requests based on water quality testing results will not be accommodated unless the requests meet the 48 hour cancellation policy.
In the event of beach closures due to adverse weather conditions or any other factor, Nickel Beach will be closed to the public for beachfront parking access up to, and including a full day of operating hours. If a beach closure is implemented for a full operating day, patrons who have purchased a daily pass for beachfront parking access will receive an automatic refund and will be able to secure a daily pass for an alternative date at no extra charge.
Cancellation/Refund Policy - Daily Passes
The City of Port Colborne will administer cancellations for daily beachfront parking passes that have been purchased in advance. Cancellation requests are to be sent to the City of Port Colborne no less than 48 hours in advance of the opening hours for an event date. A refund and ticket cancellation will be processed for patrons who meet this criteria so that an alternative pass can be purchased at their convenience, at no extra charge.
Transferability
Day pass purchases for beachfront parking is solely for individual use and each pass registered is therefore non-transferable. The City of Port Colborne reserves the right to revoke passes and access to individuals found violating these terms.
Towing Services
Vehicles stuck in the sand may be subject to towing fee, *towing service fee may be applied by a 3rd party – The City of Port Colborne is not responsible to provide towing services
Additional Notes
Swimming is not supervised
Hours of operation are subject to change and may be adjusted due to severe weather and heat advisory
The City of Port Colborne advocates proper waste management & recycling programs, your assistance is appreciated in keeping the beach property clean and tidy
Is Lake Erie safe for swimming?
During the summer months, beaches along Lake Erie are safe to swim in. If the water is unsafe to swim in, Niagara Region Public Health signs will be posted at the entrance of the beach.
Beaches are unsafe for swimming when the water contains levels of bacteria that may increase a bather's risk of developing a variety of irritations and infections. Most common are minor skin, eye, ear, nose and throat infections and occasional stomach disorders. Sometimes a beach may be posted unsafe because of floating debris, oil, scum, excessive weed growth, bad odors and general turbidity.
Niagara Region Public Health will post the status of local beaches every Friday during the summer.
To obtain information on the status of beaches in the Niagara Region call 1-888-505-6074, ext. 7789.
Check the latest beach status!
Frequently Asked Questions
Q. Who can access Nickel Beach?
Both Port Colborne residents and non-residents will be able to access Nickel Beach this summer
Q. Is their walk-on or bicycle access allowed at Nickel Beach?
Walk-on access at Nickel Beach is restricted to Port Colborne residents and any of their guests.
Only one member of each group will be required to have a PORTicipate Pass for any walk-on or bicycle access.
Q. Are there non-beachfront parking options available at Nickel Beach?
Non-beachfront parking options are only available within the limited parking area on site and are only available to residents, or those who hold a day pass and choose not to park on the sand. Staff will direct where to park upon arrival.
Large groups arriving by bus must coordinate with the City of Port Colborne ahead of time for permission and will be assessed a fee based on group size.
All parking along Lake Road is prohibited.
Q. How many beachfront parking spots are available at Nickel Beach?
There are 200 spaces available to non-Port Colborne residents
Non-Port Colborne residents will need to purchase their beachfront parking pass prior to visiting the beach. The limited (200) daily passes will be available on a first come first serve basis. Pass sales can be found here.
Q. Will Port Colborne residents need a beach pass to access Nickel Beach?
Yes. Port Colborne residents will need a PORTicipate Pass to access Nickel Beach. However, beach passes will be free for Port Colborne residents.
More information on how to register and pick up a PORTicipate Pass is available on the City's website.
Q. Will Port Colborne residents also need to register in advance to visit Nickel Beach?
No. Advance registration is only for the limited 200 spaces allocated to non-Port Colborne residents. All other space is reserved for Port Colborne residents to access the beach anytime they want.
Q. Why are you requiring non- Port Colborne residents to register in advance?
There is only so much space to safely park vehicles on the beach property. By purchasing a day pass in advance, you are guaranteed access on the day you have purchased a pass for, and there is no need to try to arrive in the early A.M. prior to opening in order to secure a spot for the day.
Q. Does my PORTicipate Pass or Beachfront parking pass grant me access to SplashTown Niagara waterpark?
Q. When does the 2022 beach season open?
The 2022 beach season will begin Victoria Day long weekend in May and stay open until Labour Day weekend
Q. When does Nickel beach open and close during the summer?
Beachfront parking is available 7 days a week

Monday to Thursday: 10 a.m. to 6 p.m.
Friday, Saturday, and Sunday: 9 a.m. to 8 p.m.
Statutory holidays: 9 a.m. to 8 p.m.

Beachfront parking is available, weather permitting; if beachfront parking is unavailable due to inclement weather, we will communicate this via our social media channels and refunds will automatically be processed within 5 business days.
Q. How much does it cost to access Nickel Beach?
Beachfront parking is free for Port Colborne residents
Niagara residents: $20 weekdays, $25 weekends (including Fridays) and Statutory holidays
Non-Niagara residents: $50 weekdays, $55 weekends (including Fridays) and Statutory holidays
Q. How will you ensure the safety of residents and staff during the COVID-19 pandemic?
The City of Port Colborne is committed to the health and safety of residents, staff, and visitors
Staff will be promoting social distancing through added signage and verbal communication

City staff will continue to monitor both provincial and regional COVID-19 trends and if necessary, changes to the operational plan may be proposed
Staff will be providing Council with a beach operation report the second meeting of every month. At this time, staff will present any concerns and Council will make decisions accordingly.
If more frequent reporting is needed Staff will be prepared to provide it
Q. Will washroom facilities be available?
Yes, washroom facilities will continue to be made available at both beaches. While a permanent facility is available at Centennial-Cedar Bay Beach, only portable washrooms are available at Nickel Beach.
COVID-19 Warning
Gathering in groups carries an inherent risk of COVID-19 transmission.
Preventative measures include:
Staying home when sick
Cleaning hands
Physical distancing
Vaccination
Masking
By visiting our facility/event, you voluntarily assume all risks related to COVID-19 exposure. To learn more visit our webpage.