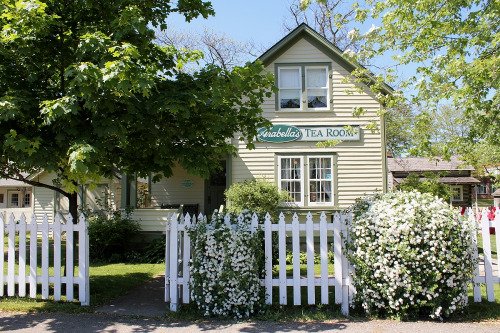 Enjoy afternoon tea and homemade biscuits served by volunteers dressed in historical costume at Arabella's Tea Room at 61 Princess Street, Port Colborne. The Tea Room is on the grounds of the Port Colborne Historical and Marine Museum. Free parking is available along Princess Street (one-way.) The Tea Room is accessible.
Hours
Arabella's Tea Room is open daily from June 1 until September 30, from 2 to 4 p.m.
The Tea Room is open the first week of December for busy shoppers to enjoy a special holiday treat of Christmas pudding and sauce.
Visit Arabella's on Facebook for more information
Menu
Afternoon tea includes a drink, two homemade biscuits, butter, and jam for $7 per person. Drinks include a variety of teas, fair trade coffee, water, lemonade, and iced tea.
Reservations
Reservations are REQUIRED to ensure public distancing and proper cleaning protocols between seatings. There are two seatings available: 2 to 2:45 p.m. and 3 to 3:45 p.m. Reservations do not include booking the entire Tea Room or booking outside of the regular season. Please call 905-834-7604.
Volunteers
Port Colborne Museum Auxiliary members volunteer their time to run Arabella's Tea Room. All proceeds from the Tea Room support the Port Colborne Museum. The Tea Room requires about 60 volunteers to operate each season, with two to four volunteers needed every day to bake and serve hot biscuits and tea.
Interested in helping at Arabella's Tea Room? You can apply to volunteer.
History
Arabella's Tea Room began as an idea in 1977 when community members started a Museum Auxiliary to operate a volunteer-run Edwardian-era Tea Room to support the work of the Port Colborne Historical and Marine Museum. The Tea Room is located on the main floor of a small house, original to the museum grounds. Arabella Williams built it in 1915 as a rental home on her property. Arabella Williams lived in the main house, now the museum. After months of restoration and planning, Lieutenant-Governor Pauline McGibbon cut the opening ribbon for Arabella's Tea Room on July 1, 1978.
Arabella's Tea Room is one of the longest-running volunteer-run tea rooms in Canada.