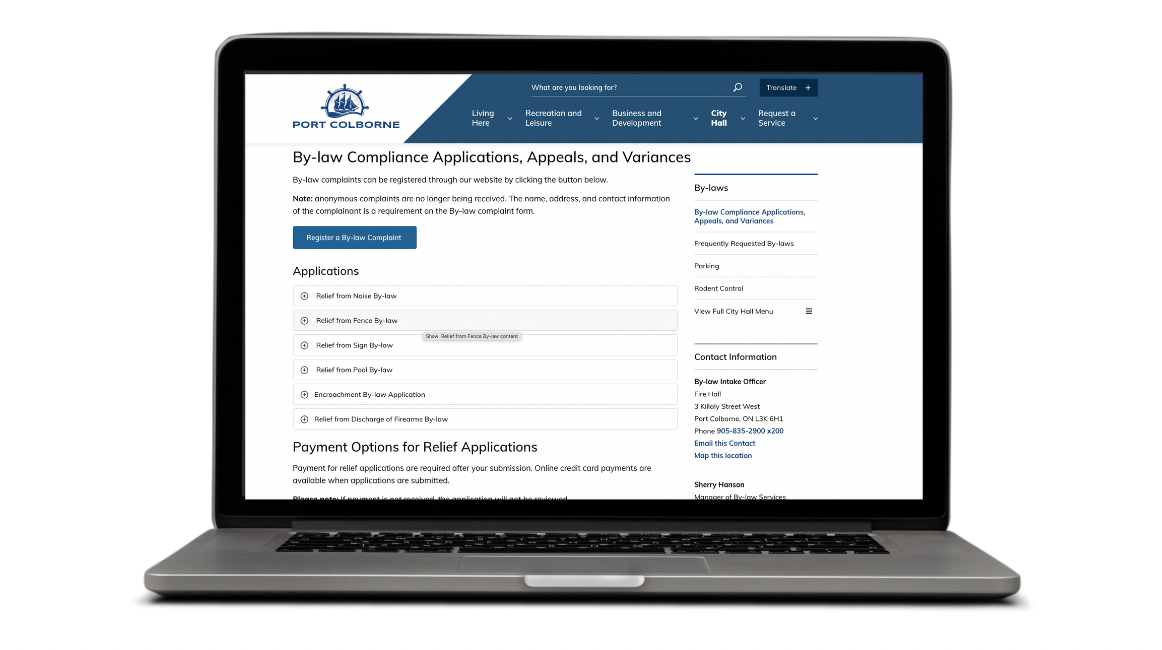 In an effort to better serve the residents of Port Colborne, by- law services have moved all their compliance applications, appeals, variances, complaints, and payment of associated fees online.
Compliance applications that have moved online, include reliefs from noise by-law, fence by-law, sign by-law, pool by-law, discharge of firearms by-law, and encroachment by-law application. An online credit card payment options have also been added for interested applicants.
To be open and transparent, by-law variance applications will now also be posted on the city's website and open to resident feedback. Comments can be submitted by completing the resident comment form for by-law variance. By-law variance results will also be posted for resident information and/or future reference. For individuals interested in receiving notifications of a by-law variance application a 'subscribe' feature has also been included. To receive updates to the webpage, click the 'subscribe' button located near the top right of the webpage, www.portcolborne.ca/BylawApplicationsAppealsVariances.
"Although the physical doors to our office may only be open from 8:30 a.m. to 4:30 p.m., Monday to Friday, we know residents need to access our services beyond those hours. Moving to this online system provides our residents with the flexibility to apply and/or pay for variances at a time that is convenient for them", said Sherry Hanson, manager of by-law service.
By-law complaints can also be registered online through the designated webpage. This is also part of by-law services decision to no longer accept anonymous complaints.
A tutorial video on how to navigate this page will be available in the near future.
This project is aligned with the city's 2020-2023 strategic plan to provide quality and innovative delivery of customer service. Council approved the corporation's discharge of firearms by-law, along with an update to this new online process, at the Sept. 13, 2022, meeting through report 2022-145.
In-person services will remain an option for those interested. A reminder that by-law services become a part of the city's safety and enforcement department in 2020, which also includes fire services. Visit By-law services at the Fire Hall, 3 Killaly Street West, or call 905-835-2900 x200.