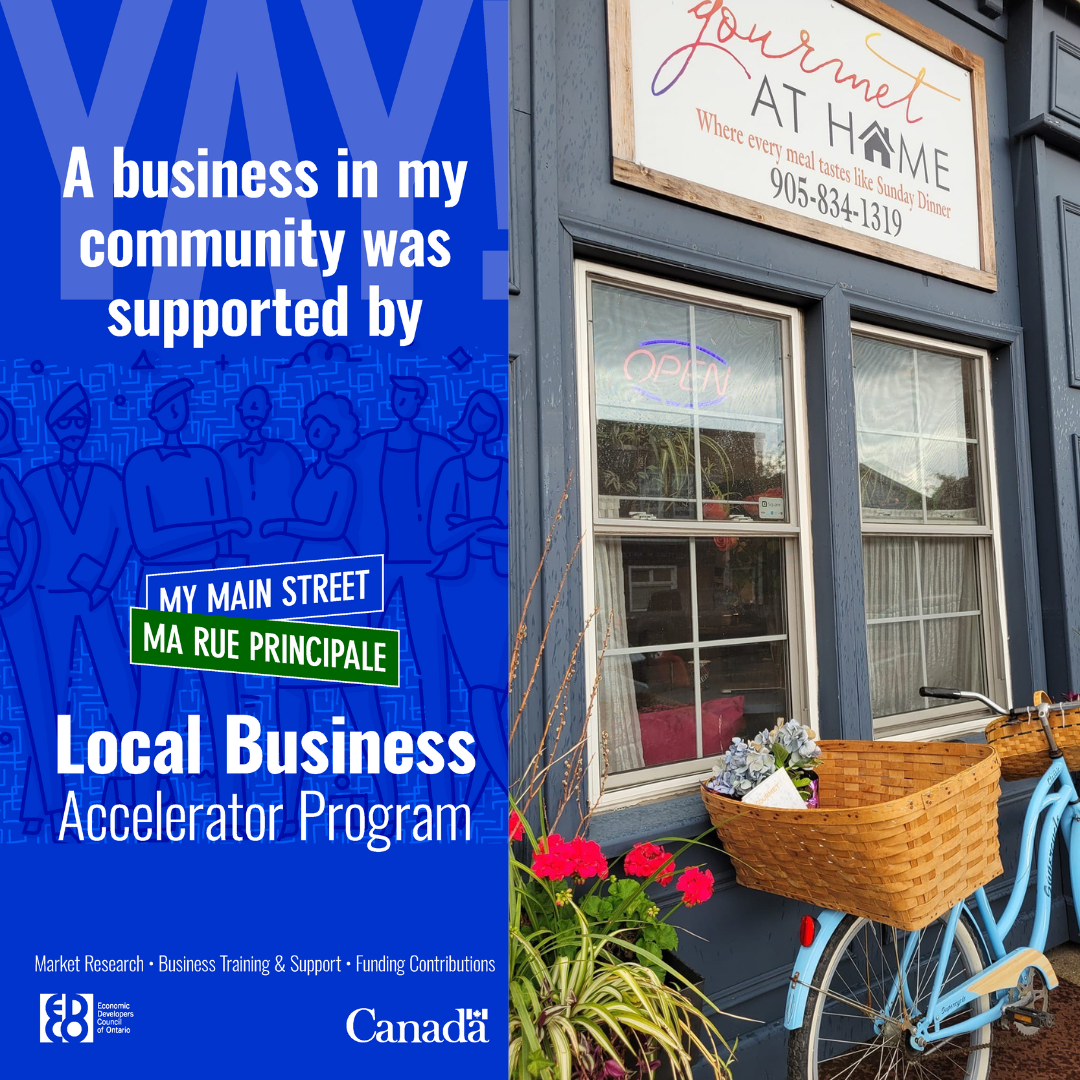 Main streets play a vital role in growing the Canadian economy and supporting local communities.
Port Colborne would like to congratulate Gourmet at Home on being a recipient of a My Main Street non-repayable funding contribution of $10,000.
This contribution will allow Gourmet at Home to support findings from the market research provided by My Main Street to drive economic growth and attract new customers to its business and the Port Colborne community.
Through its market report, Gourmet at Home learned that the average spend on food from restaurants in this part of the community is roughly $3,000, which is 17 percent higher than the rest of Port Colborne. Also, target segments are most likely to be in the 50-75-year age group with low skepticism towards small businesses. There is also a strong focus by residents on an ecological lifestyle and a priority for purchasing items based on environmental concerns.
Owner Thomas Mason was pleased to learn this and wants residents to know that being environmentally responsible is Gourmet at Homes' core value. The business packages it meals in biodegradable trays that are both oven and microwave friendly and delivers them using a fleet of Smart cars, which results in zero-emissions and free delivery for patrons.
Mason is excited to use the non-repayable contribution towards upgrading his website, streamlining his ordering process to make it more user-friendly for existing and new clients, and investing in a commercial dishwasher to make the kitchen workflow more effective.
The My Main Street, Local Business Accelerator program is delivered by the Economic Developers Council of Ontario with an overall Government of Canada investment of $23.25 million through the Federal Economic Development Agency for Southern Ontario (FedDev Ontario) to support the recovery and strength of main streets and local businesses in southern Ontario.
On behalf of Gourmet at Home, Port Colborne would like to thank the Government of Canada, FedDev Ontario and the Economic Developers Council of Ontario, and MP Vance Badawey for supporting our local business.
Quotes
"Main streets play a vital role in growing local communities and economies for everyone. The Government of Canada will continue to invest in My Main Street and the small businesses the program serves, resulting in local economic growth and more vibrant neighbourhoods for Canadians and their families to call home."
- The Honourable Filomena Tassi, Minister responsible for the Federal Economic Development Agency for Southern Ontario
"Small businesses in Port Colborne play a vital role in the success of our local economy. Through My Main Street, our government, in collaboration with EDCO and CUI is committed to helping communities bring their main streets back to life by supporting businesses that will reanimate our neighbourhoods, creating jobs and driving economic growth for local economies."
- Vance Badawey, Member of Parliament for Niagara Centre
"The Economic Developers Council of Ontario (EDCO) is delighted to be delivering the My Main Street Local Business Accelerator program to support local business and main streets across southern Ontario. Thanks to the support of the Federal Economic Development Agency for Southern Ontario, local businesses will have access to resources to help create economic opportunities for these main street communities, which is an essential component to a successful local economy."
- Heather Lalonde, Chief Executive Officer for the Economic Developers Council of Ontario
"It never ceases to amaze me how involved and helpful the city of Port Colborne has been to us. A big thanks to Olga Loeffen in particular for all her help and her patience in working with us. The My Main Street program is a huge help after the setbacks that came with the pandemic. We're very thankful to be given this opportunity."
- Thomas Mason, Gourmet at Home
"Congratulations to Gourmet at Home on being the 10th and final recipient of the non-repayable funding through the My Main Street Local Business Accelerator program. On behalf of city staff and the Economic Development Department we would like to thank Gourmet at Home for the culinary service it offers this community, and its dedication to reducing its carbon footprint through the use of biodegradable packaging and a zero-emission delivery service."
- Bram Cotton, Economic Development Officer, City of Port Colborne