Fun in the Sun!
Nothing can beat a day at the lake. Come for the sun, stay for the fun! Explore Port Colborne's beaches for a day, a week or all season long.
Centennial – Cedar Bay Beach
Revamped in 1967 by the former Township of Humberstone's Centennial Project, Centennial Park is a 46-acre park overlooking Centennial – Cedar Bay Beach on Lake Erie. Located on Vimy Road at the southern end of Cedar Bay Road, off Highway 3, this beach features 2 outdoor picnic pavilions, washrooms, tennis courts, volleyball courts including beach volleyball, horseshow rings and a sandy beach.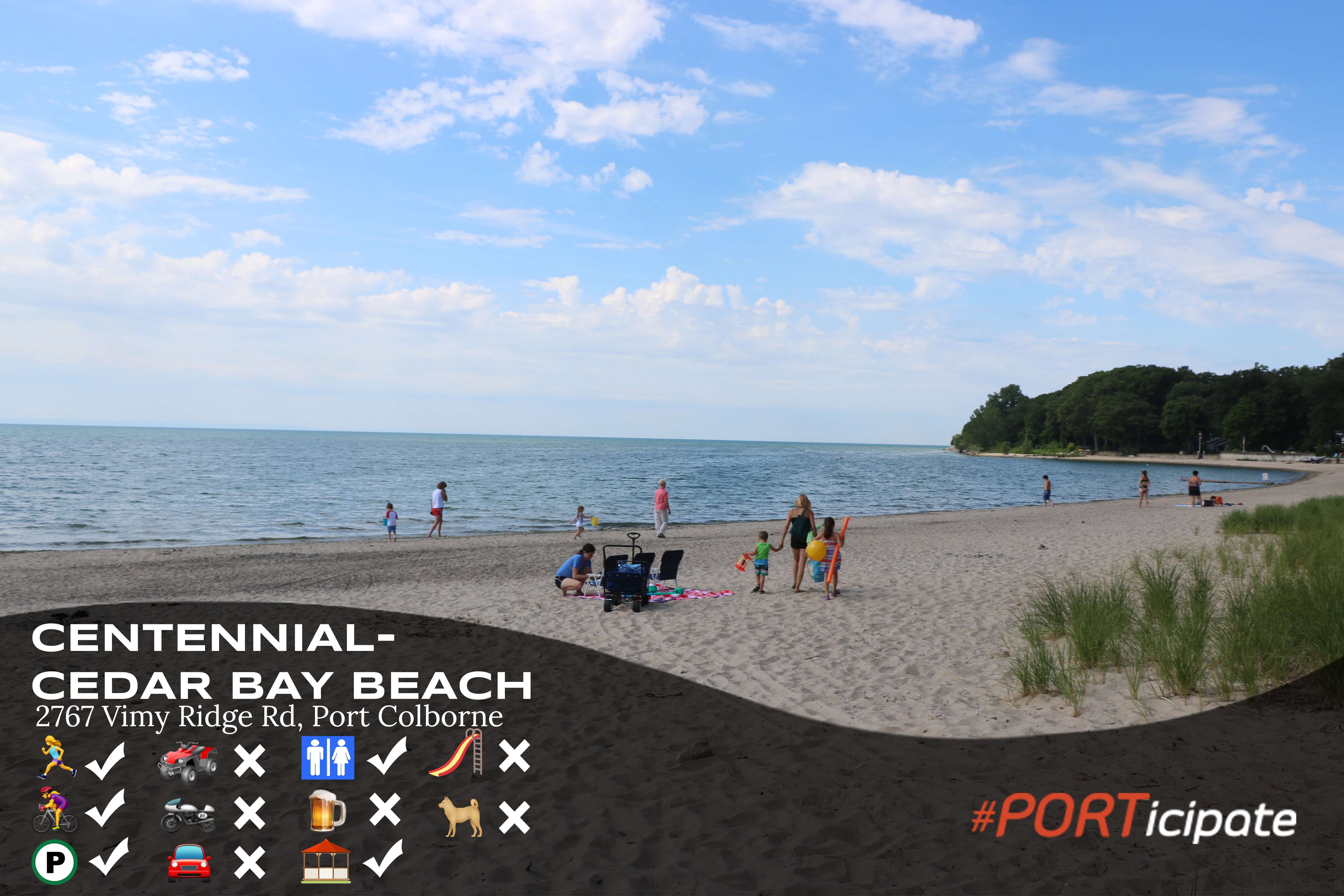 Nickel Beach
Nickel Beach is the perfect beach for windsurfing, swimming and sunbathing.
Located on Lake Erie at the southern end of Welland Street at Lake Street, this beach offers white sandy beaches, great trails to explore and public amenities including picnic areas, restroom facilities and volleyball courts. Come out and enjoy some fun in the sun at Nickel Beach!
Is Lake Erie Safe for Swimming?
During the summer months, beaches along Lake Erie are safe to swim in. If the water is unsafe to swim in, Niagara Region Public Health signs will be posted at the entrance of the beach.
Beaches are unsafe for swimming when the water contains levels of bacteria that may increase a bather's risk of developing a variety of irritations and infections. Most common are minor skin, eye, ear, nose and throat infections and occasional stomach disorders. Sometimes a beach may be posted unsafe because of floating debris, oil, scum, excessive weed growth, bad odors and general turbidity.
Niagara Region Public Health will post the status of local beaches every Friday during the summer.
To obtain information on the status of beaches in the Niagara Region call 1-888-505-6074, ext 7789.
Right of Passage Along the Shoreline of Lake Erie
Currently there are no Provincial legislation that allows the public to pass freely along the shoreline of Lake Erie. What does this mean? There are properties along Lake Erie that are privately owned and those who walk along the waters' edge are considered trespassing.
To provide access to Lake Erie for residents and visitors, the City does operate two lakefront beach parks - Cedar Bay Centennial Park and Nickel Beach.
Questions? Contact the By-law Enforcement Division by email at bylawenforcement@portcolborne.ca or call 905-835-2900 ext. 207.
2021 Road Allowance Study
Port Colborne is moving forward with a road allowance study along Lake Erie's shoreline in preparation for the 2021 summer season.
As passed by Council in early 2020, City staff were tasked with completing a review of road allowances that end at Lake Erie's shoreline. Working with Sierra Planning and Management, a consulting firm from Toronto, a comprehensive plan was established with the goal of producing operational considerations. This includes but is not limited to, protecting residential amenities, commercial activity, health and safety of visitors and residents, and ensuring environmental protection.
As recommended by Sierra Planning and Management, the strategic approach to gathering data will be staggered. The first phase of this study was a survey mailed to the home addresses of property owners within a certain geographical location of the road allowances: Reuter Road to the west, Holloway Bay Road to the east, Killaly Street and Highway 3 to the north, and Lake Erie to the south. The letter was mailed in December 2020, asking property owners to complete an online survey related to the use and management of the road allowances for recreational use. Business owners within these geographical locations will also be consulted during this initial phase of the study.
The second phase of this study, once the survey results are reviewed, is a virtual public meeting open to all residents and interested parties. During this meeting residents can ask questions and address concerns they may have. Once the meeting date is finalized, it will be communicated accordingly.
For more information, please click here.
To watch the Road Allowance Study presentation from the January 11, 2021 Council meeting, please see below.
What You Can Bring to the Beach
Personal hand sanitizer, towels, water toys, a cooler with snacks and non-alcoholic drinks, umbrellas for shade, and personal BBQ's (propane or charcoal). We ask that you dispose of any waste accumulated during your beach visit in the provided receptacles.
What to Leave at Home
Alcohol, cigarettes, cannabis, and vaping devices (all beaches in Niagara are smoke and vape free), dogs and horses.