This is the year for road trips, backyard adventures and summer staycations. With beautiful beaches, a vibrant waterfront community with boutiques, restaurants, and cafes, multiple hiking trails and parks for nature enthusiasts, exploration is endless in Port Colborne. This South Niagara coastal community is your perfect destination for a weekend getaway, daytrip, or even just a random sunny Sunday cruise.
For the month of August, the City of Port Colborne is offering you the chance to win the Ultimate Port Colborne Staycation prize package which includes:
Two cruiser bikes with baskets
$250 in gift cards to local Port Colborne dining establishments
$250 in gift cards to local Port Colborne businesses
A private 'Behind the Scenes' tour of the Port Colborne Historic and Marine Museum
A Port Colborne Public Library package which includes a variety of books and prizes for all ages
Port Colborne is a popular destination for people to discover, and we want you to have the opportunity to experience it for yourself! For the month of August, find a photo frame set up around Port Colborne at various popular destinations including:
H.H. Knoll Lakeview Park
Port Colborne Promenade
Nickel Beach
Lock 8 Park
Sugarloaf Marina
Port Colborne Public Library
Port Colborne Historical and Marine Museum
Snap a photo at one of these photo frames, post it to either Facebook, Instagram or Twitter using #PortColborneStaycation and you're entered to win! If you discover multiple spots in Port Colborne, snap a photo and tag us to be entered more than once.
The contest will run from August 1 – August 31, 2021 and complete contest rules and how to enter can be found below. Interested in #PORTicipating, but don't use social media? No problem! Participants can submit their photos by emailing entries to communicationsofficer@portcolborne.ca.
Let's see how you #PORTicipate this summer for your chance to win the Ultimate Port Colborne Staycation!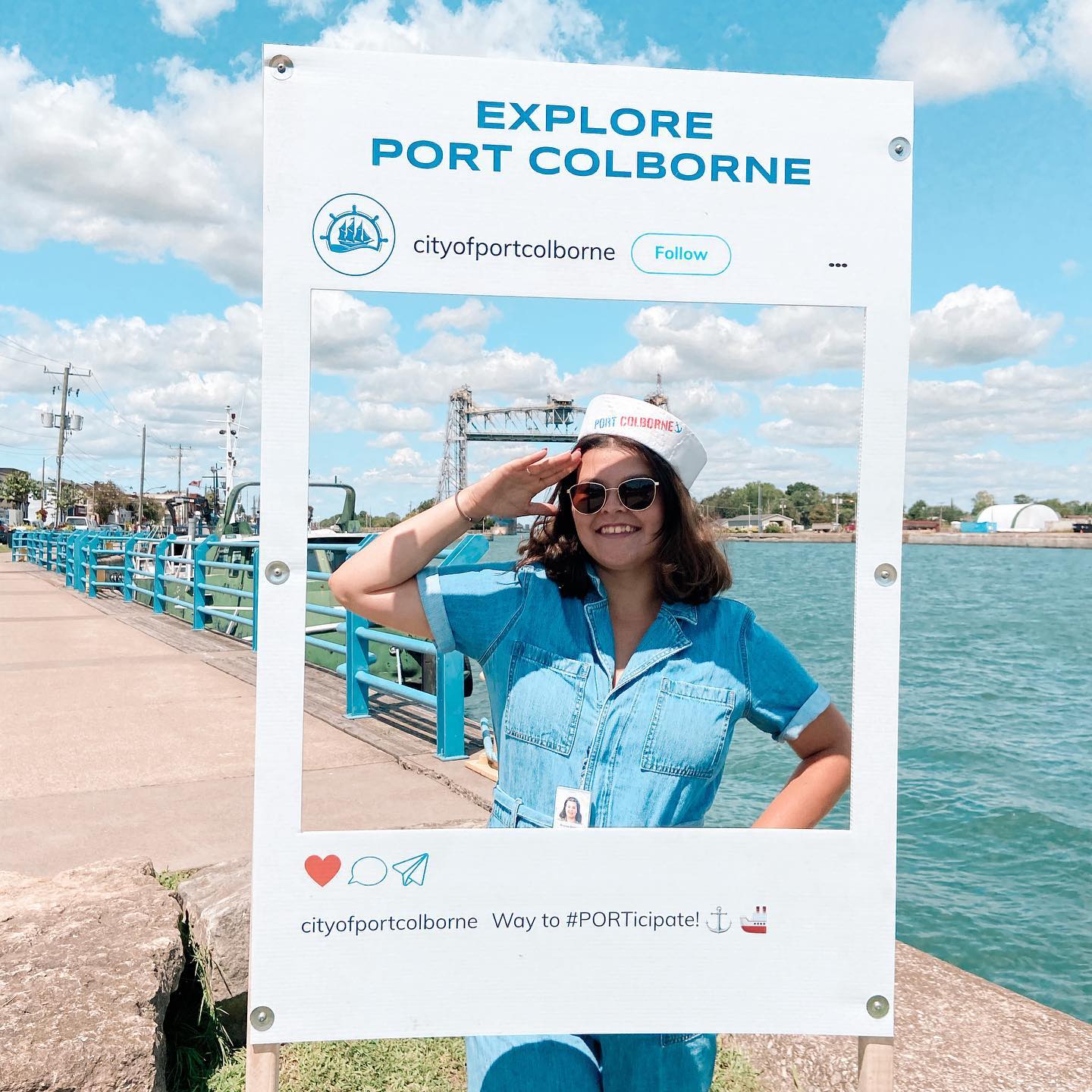 Rules and Regulations
This contest is open to Port Colborne residents and non-residents
Participants must be over the age of 16 to enter
City of Port Colborne staff/Council and members of their household are unable to enter
To enter, participants must snap a photo at a photo frame located at any one of the locations listed below and share their photo on either Facebook, Instagram or Twitter using #PortColborneStaycation.

H.H. Knoll Lakeview Park
Port Colborne Promenade
Nickel Beach
Lock 8 Park
Sugarloaf Marina
Port Colborne Public Library
Port Colborne Historical and Marine Museum

Participants are eligible to enter more than once if they are using a different photo frame picture. For example, one entry could be from H.H. Knoll Park and the other entry could be Nickel Beach.
Participants who don't use social media, can email their submissions to communicationsofficer@portcolborne.ca to be entered to win
One winner will be chosen at random. The winner will win two cruiser bikes, $250 to any Port Colborne dining establishments of their choice, $250 to any Port Colborne local business of their choice, a Port Colborne Library prize package and a private tour of the Port Colborne Historic and Marine Museum for a date of their choice. Private tour of the Museum expires September 2022. Prize package cannot be exchanged for a monetary value.
Contest closes on Tuesday, August 31, 2021 at 11:59 p.m. and the winner will be selected and notified via social media or email by Friday, September 3, 2021. The winner will be required to respond to the City of Port Colborne confirming receipt of prize within 10 business days. If winner does not respond to the City of Port Colborne within 10 business days acknowledging they've won, the City of Port Colborne will redraw a new winner. If there is a redraw, the second selected winner will need to respond to the City of Port Colborne within 10 businesses days acknowledging they've won.
By submitting a photo to the Port Colborne Ultimate Staycation Contest, you are granted permission for the City of Port Colborne to use these photos for all future marketing purposes including but not limited to, print and digital advertising.
To be entered into the contest, all submissions must include #PortColborneStaycation and a photo frame. The City of Port Colborne must be able to see the post, so please ensure privacy settings are managed accordingly. If the City of Port Colborne is unable to view the photo because an account is set to private, the participant will need to private message the City of Port Colborne on social media and send them the photo as a file.
Inappropriate posts will automatically be disqualified